Reiki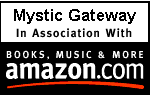 The Complete Reiki Handbook:
Introduction and Methods of Natural Application, a Complete Guide for Reiki Practice
Walter Lubeck

This is a good beginners book. It also touches on using reiki on animals, plants, the chakras, with crystals, and scents. The strength of this book is the detailed sections and illustrations of 17 hand positions and special positions for specific ailments. If you are very modest, you may want to skip this book since the most of the illustrations of the body are without clothes.
Reiki:
Universal Life Energy
Bodo Baginski, Shalila Sharamon

This is another good beginners book. Besides the essential reiki information, this book also discusses the legal situation of using reiki professionally, and tips for a reiki practice. In addition, there is a 70 page section explaining the meaning of symptoms from a metaphysical point of view.
Can't Find What You Want?
Back to Mystic Market - Main Page

E-mail us at mystic@castle.net.


TOP OF PAGE


HOME PAGE